INAUGURAL CONCERT
Support keeping plucked string music alive!
Performing classical, baroque and folk music
Including Vivaldi's Concerto in C Major,
and Scott Joplin's The Entertainer
with guest soloist Nigel Woodhouse
Sunday 3rd October, 3pm - 4:30pm
St Stephen's Church Cavalier Hall
1 Watling Street AL1 2PT
Tickets: £12 Adults / £10 pre-booked
Email phoenixmandos@gmail.com
to purchase tickets
CLARENCE PARK BANDSTAND
Hear our music for free!
A preview of our October 3rd concert
Sunday 15th August, 3pm - 5pm
Clarence Park Bandstand Clarence Road AL1 4NF
About the Phoenix Mandolins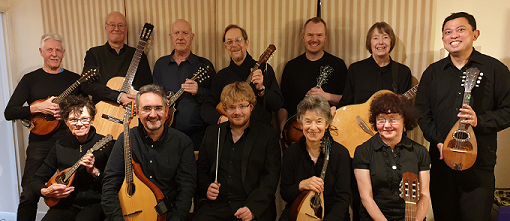 We are a voluntary community group comprised of plucked string instruments mandolins, mandolas, guitars and bass based in St. Albans.
Our group is a result of the merging of the last two remaining mandolin groups north of London, Hatfield Banjo Mandolin Guitar Group (circa 1970s) and Watford Plectra Orchestra (circa 1930s)
We aim to keep the tradition of music for plucked strings alive north of London by encouraging new players to the instruments and encouraging involvement in our concerts
We have a wide range of repetoire from tango, to waltzes, baroque, to folk. We welcome any mandolin and guitar players of any level. Interested? Contact us at phoenixmandos@gmail.com for further details.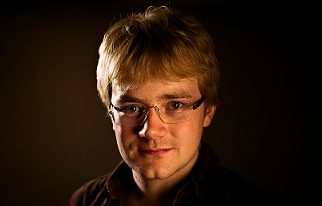 Our Music Director is conductor and clarinettist Ben Westlake. His conducting teachers and mentors include Jean-Bernard Pommier (fmr. Artistic Director of the Northern Sinfonia), Yehuda Gilad (Music Director of the Colburn Orchestra, Los Angeles), Peter Stark (Rehearsal Director for the European Union Youth Orchestra), Michael Rose OBE (fmr. Assistant-in-Charge of the BBC Training Orchestra, Bristol) and Toby Purser (Head of Conducting, Royal College of Music London).
Ben is a graduate of the Royal Academy of Music (London), the Ècole Normale de Musique de Paris and Temple University (Philadelphia, USA). As a clarinettist he was a woodwind finalist in the BBC Young Musician of the Year competition (BBC4, 2010) and appeared on "Classical Star" (BBC2, 2007). He was the winner of the Buffet Crampon Clarinet Prize in 2015 and has performed with top orchestras including the Orchestre National de France & BBC Symphony.
He currently plays with the Nuksa Ensemble (which he co-founded) and the Olyver New Music Collective - is the Principal Conductor of the Nuska Orchestra and travels the world giving clarinet recitals on luxury cruise ships.
Want to learn a plucked string instrument?
We recommend these teachers to get started on the mandolin or guitar in St Albans.
After a few lessons, contact us at phoenixmandos@gmail.com to join us and put in pratice your knowledge and technique.
Nigel Woodhouse has many years of teaching experience, he has taught all ages and all levels from beginners to advanced degree students. As well as teaching all styles of guitar playing, acoustic and electric, he can offer lessons on the mandolin and ukelele; he also teaches music theory. His basic teaching philosophy is to aim to encourage and show the pupil how they can take their playing to the next level, whilst retaining the 'fun element' and building on it.
Nigel Woodhouse studied music, with the guitar as his first instrument, first at Napier University, Edinburgh, and then at the London College of Music, where he won the Director's Performance Prize and gained the Fellowship of the college in his final year. As a result of his years of study he is a qualified guitar teacher with two teaching diplomas and two performance diplomas to his name.
Qualifications: F.L.C.M; L.T.C.L; L.L.C.M; A.L.C.M.
(Photo by Melanie Gomez)
Rob Garcia was born in the UK of Spanish parents, he studied classical guitar at the Guildhall School of Music, in Spain under Jose Tomas at the Conservatorio Oscar Espla in Alicante, and with Per Olof Johnson at the Musikhogskolan in Malmo, Sweden.
Early on in his performing career he formed the Dunlea-Garcia guitar duo with Luke Dunlea giving recitals in the UK and Europe, and recording an album 'Music for Two Guitars'.
In recent years he has performed as the other half of the acclaimed singer songwriter folk duo, Na-Mara, who have performed concerts and given workshops at venues and festivals throughout the UK, Europe and in China and also broadcast on BBC radio 4.
Rob Garcia plays and teaches the mandolin, mandola, bandurria and classical guitar.